Fully Exposed
SUNBURN: DOs & DON'Ts
You put on your sunscreen, but clearly not enough. Maybe you missed a spot, or maybe just forgot the sunscreen altogether. Your skin is red and painful. It feels hot to the touch. You have it, sunburn!
DO:
·      Stay out of the sun to prevent further damage.
·      Take a pain reliever. A nonsteroidal anti-inflammatory drug like Advil or Motrin will relieve some of the discomfort and swelling.
·      Cool the skin with frequent cool compresses or take a cool shower or bath.
·      Moisturize. Sunburned skin loses water into the environment so apply cool aloe gel or moisturizing lotion to healing skin.
·      Apply an over-the-counter hydrocortisone cream (0.5-1%) to minimize inflammation, redness and itching.
·      Drink water. Sun exposure and sunburn causes water lose through the skin. Stay hydrated.
·      Apply antibiotic cream and a wet dressing to blisters should they develop.
·      Get medical attention should fever, nausea or other systemic symptoms arise.
DON'T:
·      Get more sun.
·      Break any blisters if they should develop. This increases the risk of infection.
·      Apply lidocaine or other "caine" anesthetics as they may cause allergic skin reactions
THE TYPICAL SKIN LOTION RECIPE
Posted on:
April 20, 2018


The majority of moisturizers on the market today, whether they be facial moisturizing lotions, eye creams, night creams, "anti-aging" creams or serums have the same basic formula. The basic moisturizer is a mixture of water and oils, the oils being used to make the skin feel soft and smooth and prevent water from evaporating from the skin's surface.
Moisturizers contain water-soluble ingredients and oil-soluble ingredients that are mixed together with emulsifiers, ingredients that keep the water and oil components from seperating.
Most moisturizing lotions are water based and contain up to 80% water. Moisturizing ingredients called occlusives create a barrier on the surface of the skin to prevent water from evaporating from the skin into the environment. Petrolatum and dimethicone are common examples of occlusive ingredients found in moisturizers. Other ingredients, that draw water from the deeper layers of skin into the most superficial layers, are called humectants. Glycerin is a commonly used, effective, humectant found in many over-the-counter (OTC) skincare products. Other ingredients that are added to the formulation to make the skin feel soft and smooth are called emollients. They commonly include essential oils and cetyl esters. 
Emulsifiers that help combine the water component and oil component often include glyceryl stearate and stearic acid. In addition to these ingredients, silicates and thickeners are often added to give the product its appropriate consistancy and help keep the product stable. Preservatives are added to prevent overgrowth of bacteria and fungus, and fragrance, is often added to make the product more appealing. 
There are a wide variety of skincare moisturizers on the market, from inexpensive products found at local pharmacies and retail shops to boutique products, packaged beautifully, found at department stores. All with the same basic formula. Shop wisely, and remember, there is NO correlation between the cost of a moisturizer and its ability to moisturize the skin.
SAME PRODUCT/DIFFERENT LABELS
Posted on:
January 30, 2018


Skincare manufacturers often sell the same exact product with different labels in order to target different customers. This means two products with the exact same formulation (or ingredient listing) are marketed differently and sometimes are sold for different prices!
Examples found in skincare aisles:
Neutrogena Rapid Tone Repair Night Moisturizer & Neutrogena Rapid Wrinkle Repair Night Moisturizer
Blue Lizard Australian Sunscreen Baby & Blue Lizard Australian Sunscreen Sensitive
Blue Lizard Australian Sunscreen Sport & Blue Lizard Australian Sunscreen Regular
Aquaphor Healing Ointment & Aquaphor Baby Healing Ointment
Aveeno Eczema Therapy Moisturizing Cream, Aveeno Baby Eczema Therapy Moisturizing Cream & Aveeno Eczema Therapy Hand Cream (often sold at a higher price point than the first two Aveeno products mentioned despite having the same ingredient listing)
Be an educated consumer!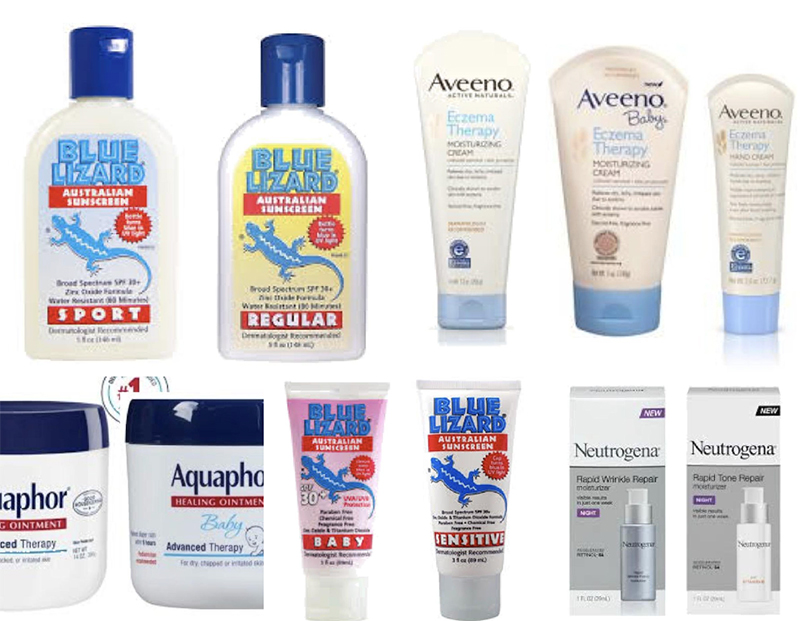 NOURISHing SKIN
Posted on:
January 18, 2018


Of the many marketing terms found on the front of skincare product labels, this is one of the most meaningless. 'Nourishing' the skin is medical absurdity. The use of the term is meant to lead the consumer to believe that the nourishig skincare product provides food or other substance necessary for skin growth. Marketing nonsense.
Skincare products are applied on the surface of the skin and are in contact with the outer 15-20 cell layers. These superficial layers of skin are comprised of non-living, yet functional, dead cells. It is not medically possible to 'nourish' dead tissue. Skin is 'nourished' from its blood supply in the much lower layers of skin.
As an organ, healthy skin parallels a healthy body. Healthy, nourished skin is a result of a nutritious diet, rich in fruits, vegetables, lean protein, and healthy carbs, adequate sleep, exercise, and the avoidance of the stressors that science has shown to be harmful to good skin health, like smoking and utraviolet light exposure. There is no scientific meaning to word 'nourishing' on a skincare product label.
DOSE VS TOXICITY
Posted on:
January 04, 2018


Parabens, phthalates, sulfates...so much concern about skincare product ingredients. Yes, skincare product manufacturers must produce safe products and be held accountable. But don't let the fear-mongering articles that are so frequently seen in health and beauty magazines make you panic. Remember, sensationalism sells! And keep this in mind:
The ability of any chemical to do harm is dependent on its dose or the amount of exposure of that chemical. Almost every chemical has a dose below which no adverse effect or harm can occur. Water is a perfectly healthy chemical, essential for life. Yet, if a 165 pound person drinks 6 liters of water in a short period of time, it can lead to water intoxication and even death. Acetominophen is the active ingredient in the painkiller Tylenol. Take one extra strength Tylenol (500 mg) and your headache pain is relieved. Take 14 extra strength Tylenol tablets and you might be looking at liver failure and possible death. The dose of a chemical determines the potential for harm, not the chemical itself. 
Pages
Welcome to Fully Exposed
​Hello, and welcome to FryFace!
I've been a New York based dermatologist for over 25 years. I love music. I love triathlons. I love chemistry. (I love petroleum jelly.) I study skincare ingredients and product formulation. I listen to skincare "advice" from self-proclaimed ......Read More